Next Course Starts: October 27
Our flagship electronic music production course "Ableton Live: Produce Your First Track" was designed as both an introduction and deep dive into the world of music production. The course focusses on students applying concepts right away so that each student has finished an original track by the end of the course.
Drastically improve your skills through in-depth video lessons, projects, and feedback sessions. It's a world-class curriculum and unforgettable learning experience designed to level you up.
Next Course Starts: November 7
This course was designed for students that already have a good understanding of Live and are looking to deepen their knowledge by uncovering some of Live's more complex features. Learn how to use Live's powerful synths and samplers to create your own unique sounds from scratch, and discover advanced techniques that will speed up your workflow and open the door to endless creative possibilities within this limitless software.
Next Course Starts: November 14
This course, created by John Selway, is the result of his many years as a musician and sound designer searching for interesting ways to make unique sounds using synthesizers and samplers. The course teaches the fundamentals of sound design and explores the various synthesis and sampling techniques so that students can ultimately navigate any type of synthesizer. Throughout the course, students will be applying their skills directly to creative projects to make music and will leave the class with an arsenal of their signature sounds.
Next Course Starts: November 10
"You can make a great track, but if the mix isn't right, you won't get to your audience. It doesn't matter if you are playing at home or at Berghain". This course will teach you a systematic method to achieving a great mix, from gain-staging and panning, EQ and compression, sound coloration and stereo imaging, to mastering and finishing touches. Learn to bring out the flavor in your productions, and to achieve a polished,  release-ready mix right on your laptop.
Next Course Starts: October 26
You may know your DAW, or be great at mixing or sound designing, but do you know what makes a great melody, chord progression, or bassline? Master the fundamentals of music theory and composition in this essential course, so that you can express your ideas quickly and accurately, and learn how to arrange them into a finished track.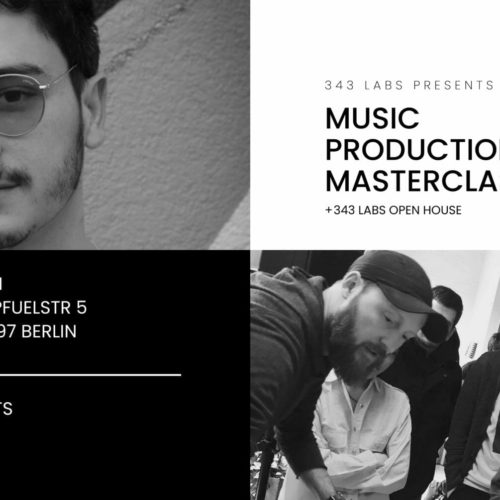 Get Directions
Riverside Studios, Aufgang III/UG, Pfuelstraße 5, 10997 Berlin, Germany
Exploring Boundaries: Creative Techniques for Electronic Join us on Thursday, June 8, for a free music production masterclass and 343 Labs Open House. In this masterclass, producer Melon Blush will demonstrate a range of techniques to stimulate your creative flow in Ableton Live. Together, you will explore different approaches that can help generate fresh ideas. […]
All our in-person classes take place in the renowned Riverside Studios
ADDRESS: Köpenicker Str. 6A, 10997 Berlin