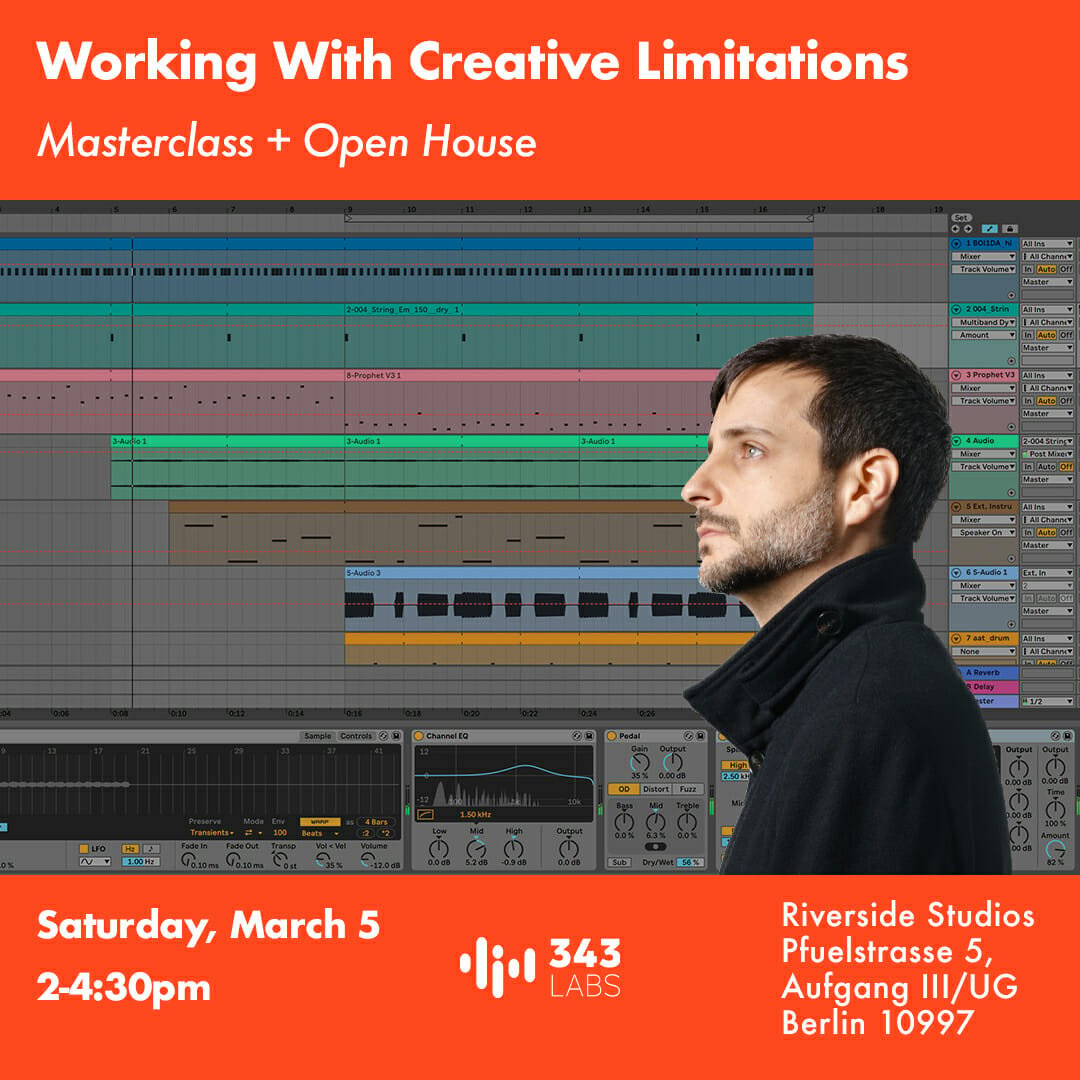 Get Directions
Riverside Studios, Aufgang III/UG, Pfuelstraße 5, 10997 Berlin, Germany
Working with Creative Limitations in Music Production, with Noah Pred
Join us on Saturday, March 5 for a free music production masterclass and Open House with Ableton Certified Trainer Noah Pred. Noah will demonstrate how the use of limitations in music production can be a great tool for creativity. He will show Live's powerful functionality, making a full track using only a sample of his voice, which he will record live during the class. Learn new tips and tricks from Noah's many years of experience as a producer, and how he approaches making music with Ableton Live.
During the event, 343 Labs will be opening its doors for an Open House, where attendees can get a tour of the facilities, learn about 343 Labs courses, and meet some of the instructors. This is a great way to get a feel for the community and programs at 343 Labs, meet fellow producers, and ask any questions you may have about our school.
Noah Pred has been making music for the past two decades. Working with hardware samplers, sequencers, and synthesizers, he began performing live sets of techno, house, and electro in the mid-'90s. He has since toured North America and Europe with his unique hybrid of electro, dub, techno, and house, issuing numerous releases on labels around the globe, and receiving two Juno Award nominations in the process. As Canada's very first Ableton Certified Trainer, he has taught a wide variety of techniques for stage and studio over the decade at institutions such as the Rich Media Institute, MacProVideo, FEED, Ask Audio, BIMM Berlin, and 343 Labs.
Corona safety: 2G+ (proof of vaccination, or recovery and a negative test dated less than 24 hours )
Schedule:
Open House: 2-3 pm
Masterclass: 3-4:30 pm