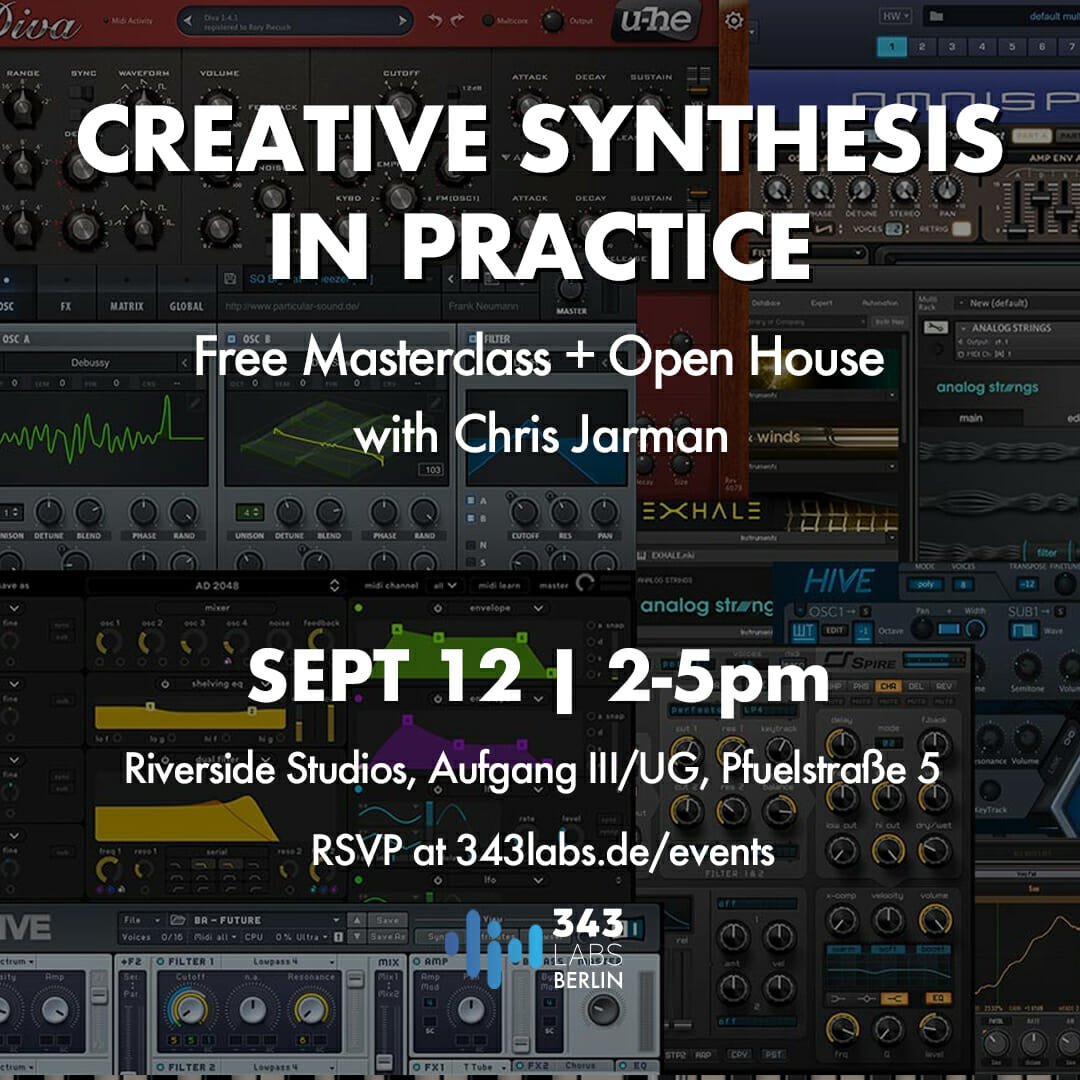 THIS EVENT WAS ORIGINALLY PLANNED FOR SEPT 9 AND IS NOW SCHEDULED FOR SEPT 12.
Join us on Saturday, September 12th for a free Music Production Masterclass and 343 Labs Berlin open house. In this masterclass, Chris Jarman will break down creative synthesis techniques that can be used to help your music stand out. Chris Jarman has 20 years professional music industry experience which has led to a variety of musical personas across many genres as Kamikaze Space Programme, Dot Product and Raiden. He has amassed over 150 vinyl releases and regularly performs at many of the world's most infamous venues. As Kamikaze Space Programme, Christopher releases techno music on Luke Slater's Mote Evolver label, Bas Mooy's MORD and Simon Shreeve's Osiris music. He is a regular DJ at Berghain, Tresor and regularly tours, playing at the most respected clubs all over the world. KSP's music is made up of myriad samples, found sounds and white noise from real world situations, it lends the stuff a very real texture and aesthetic that links it to the here and now, the everyday, in a very real way.
Before the masterclass, 343 Labs will be opening its doors for an Open House, where attendees can get a tour of the facilities, learn about 343 Labs courses, and meet some of the instructors. This is a great way to get a feel for the community and programs at 343 Labs, meet fellow producers, and ask any questions you may have about our school.
To ensure everyone's safety, there will be limited capacity, so please make sure to RSVP below to be guaranteed entry. Please also make sure to bring a face mask.
Schedule:
Open House: 2-3 pm
Masterclass: 3-5 pm