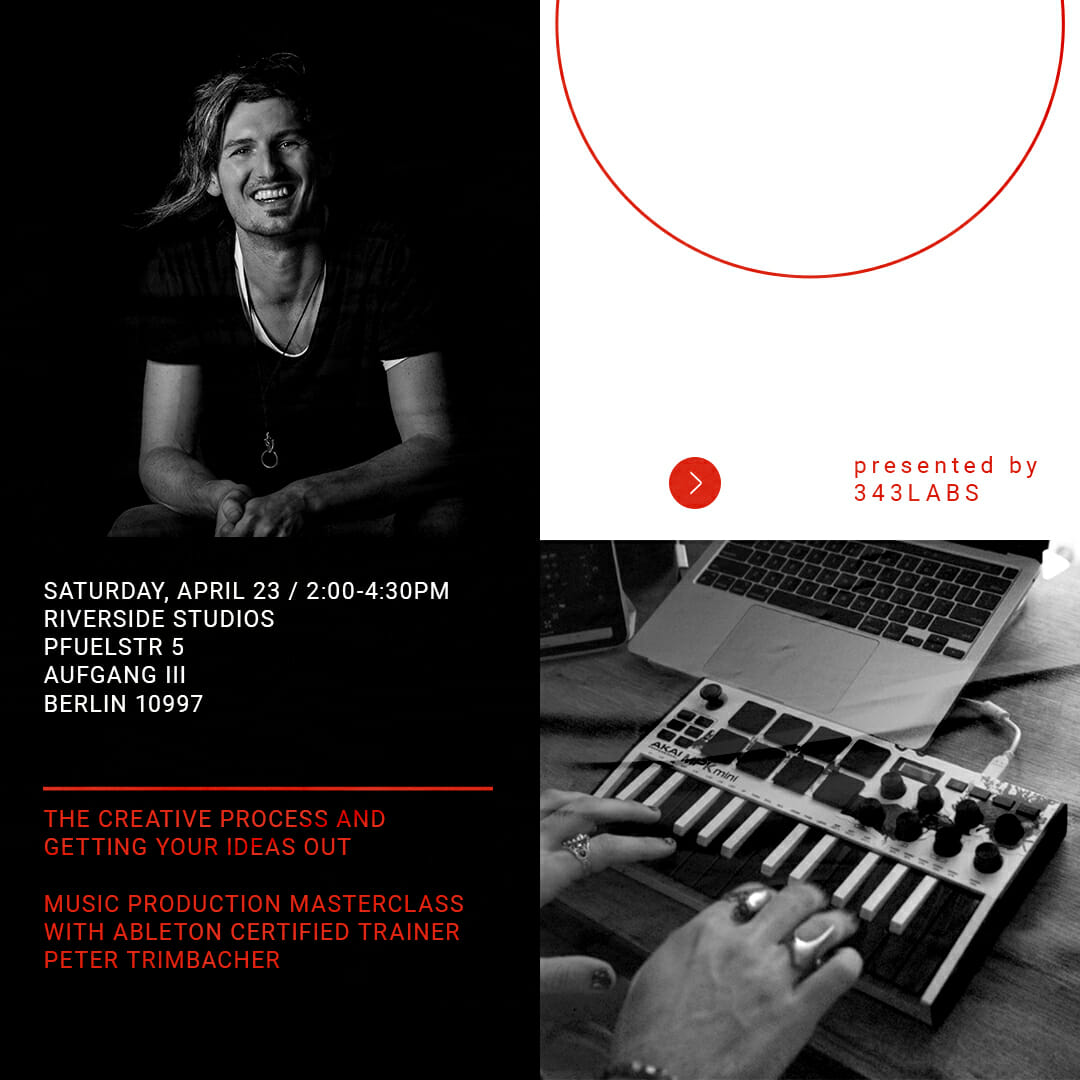 Get Directions
Riverside Studios, Aufgang III/UG, Pfuelstraße 5, 10997 Berlin, Germany
The Creative Process and Getting Your Ideas Out
Join us on Saturday, April 23 for a free music production masterclass and 343 Labs Open House. In this masterclass, Ableton Certified Trainer Peter Trimbacher will demonstrate his creative music production process and the techniques he uses to get his ideas from his head to his DAW. Learn music production tips and tricks and why Ableton Live is such a popular software amongst music producers.
Before the masterclass, 343 Labs will be opening its doors for an Open House, where attendees can get a tour of the facilities, learn about 343 Labs courses, and meet some of the instructors. This is a great way to get a feel for the community and programs at 343 Labs, meet fellow producers, and ask any questions you may have about our school.
Using Ableton Live at the centre, Peter Trimbacher DJs and performs live improvisations under the moniker Metapattern which is a techno project encompassing many sub-genres such as broken beat, industrial, rave, polyrhythmic and deep styles. His works can be heard on labels such as Machine Label (AU), Raven Sigh, (CA), Måinmise Records (FR), and Krill Music (AR). Pete contributes regularly to UK-based Attack magazine as a writer of technical production articles and is also well versed in higher education curriculum design and review.

Schedule:
Open House: 2-3 pm
Masterclass: 3-4:30 pm