Ableton Live 11 New Features, Effects & Instruments
Written by Ableton Certified Trainer Peter Trimbacher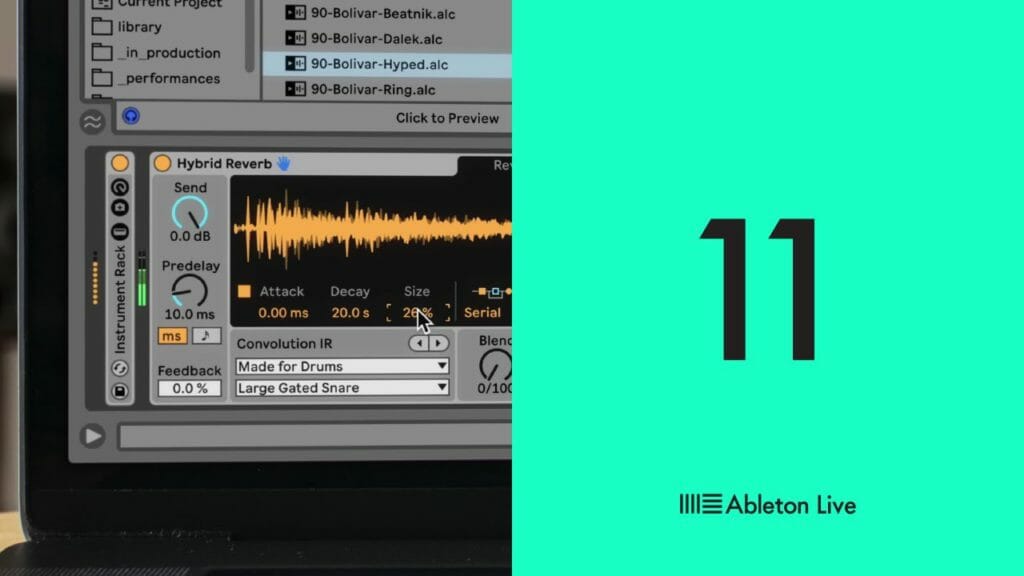 Overview
Since the exciting new Live 11 release, we dug into the many bold features that are getting the community excited.
Long-time users will be happy to know that the bulk of the enhancements focus on the workflow side, including audio improvements such as take recording, comping, and refined clip editing.
The MIDI side sees a major overhaul with the ability to quantize notes to scales, add velocity and note chance and allow polyphonic expression through the new MPE standard.
There are a variety of new effects to choose from, including the innovative Hybrid Reverb, and we see major updates to Racks as well as a host of smaller but well-executed enhancements to existing devices.
As with any major update, you can be assured of a smooth transition to the new version, which does not stray far from the interface we all know and love. Let's take a minute to unpack the most exciting new features.
Audio – Comping & Linked Track Editing
Comping
Indispensable to instrumentalists and attractive to producers, Comping is a long-awaited feature that is designed to compile multiple takes of recorded audio into a perfect composite musical performance.
Practical Ideas:
Loop record an instrument multiple times and select the best notes/phrases from each take to create the perfect composite.

Resample audio from another track e.g., manipulation of synth parameters and select the best articulations to find the perfect flow.

Create take lanes on an existing track like a percussion loop, drag multiple clips into the take lanes and create a composite percussion element.

Linked Track Editing
The ability to link multiple tracks together for editing is a huge time saver for those who like to work with multitracks. Splitting, duplicating, deleting, and fading, for example, are shared across tracks that have been linked using the link tracks command when selecting multiple tracks and right-clicking in the track title bar.
Practical Ideas:
Link tracks that have been simultaneously recorded into your session – e.g., a multiple mic'd drum kit.

When remixing a track, link together the remix stems to make cohesive adjustments to all song elements.

Editing a multi-part MIDI performance that shares the same notation on varied presets.

MIDI – MPE, Chance, Keys, and Scales.
The MIDI editor is the most visually different part of the whole user interface in Live 11 due to the number of new updates that are packed in on the MIDI side. New tabs for note parameters, follow actions, envelopes, and MPE organize the updated feature set elegantly.
MPE
MIDI Polyphonic Expression (MPE) makes it possible to expressively play harmonies and vary parameters, including pitch bend, slide, and pressure parameters per note on a host of capable instruments such as the native Wavetable and Sampler. Although most inspiring with specialized hardware (Roli Seaboard), it is possible to program these changes directly into the updated MIDI editor.
Practical Ideas:
Create evolving pads over 8-16 bars by assigning slide and pressure to wavetable index and filter cutoff.

Try simple LFO-like geometric motions on smaller bar lengths.

Keys and Scales
Perhaps one of the biggest advantages of the Push instrument is to be able to play within a musical key and scale without prior theory training. This form of pitch quantization is now directly available in the MIDI editor and is also linked to Push for an integrated workflow experience.
Practical Idea: Using a chosen scale, activate the editors scale mode and compose a simple triad chord progression over a duration of four bars. Each chord should have three notes separated by one space and last one bar.

Chance Tools
Digital drummers and users of devices such as the Elektron machines should be thrilled to discover native control over note and velocity chances. It is now possible to set velocity note, and chance ranges to enhance both percussive and rhythmic instrument sources like drum racks or sequenced synth lines.
Practical Ideas:
Set velocity ranges for supporting elements such as ghost notes in a drum sequence.

Use chance amounts on certain fills or embellishments within a sequence.

Create ever-evolving rhythmic synth lines by assigning multiple parameters to randomized velocity.

Devices
On the sound design and mixing front Live 11 brings a host of new devices and well-executed updates.
Visually the audio effects are now grouped into themed clusters like Dynamics and EQ and Filters, freeing up collections for other organizational purposes.
Hybrid Reverb
To most users, the Hybrid Reverb will probably be the most interesting device to explore since it combines the familiar Reverb and Henkes' Convolution Reverb devices into an ultimate all-purpose workhorse. What's more, is that the reverb side has been generously updated with multiple new algorithms, including the increasingly popular Shimmer style. The novel implementation of various signal routing presets between the two parts leads to interesting hybrid possibilities.

Spectral Resonator & Time
The spectral devices, explained here in detail (https://www.ableton.com/en/blog/spectral-sound-a-look-at-live-11s-new-spectral-devices/) use what is called fast Fourier transform (FFT) technology to break down into individual pieces called partials and manipulate these signals in real-time. In short, these devices add new exciting options for sound designers. As with many new tools, they can be daunting at first but really grow on the user in the long run.
For long-time users of Live, Spectral Resonator bears an immediate sonic resemblance to the Resonators device, but the big difference here is the technology behind the two devices. FFT allows a much wider control over the sound leading to an enhanced feature set including individual harmonic control as well as Unison, Chorus, Wander, and Granular modes of operation.

For a few moments of use Spectral Time is probably closest to the Grain Delay in sound but where it really shines is its ability to freeze the signal completely, leading to otherworldly drones and textures. The freeze function also features a host of modes and fine-tuning options.

PitchLoop89
One of the co-founders of Ableton, Robert Henke, has developed PitchLoop89 to resemble a famous effect from 1978; you can read about it in detail on his website.  (https://roberthenke.com/technology/pitchloop89.html)
The effect bears some resemblance again to the Grain Delay, which was previously the only device to offer pitch-shifting delays in the software. Unlike its predecessor, this new plugin features stereo processing and advanced granular-like manipulation via the infinite loop function.

Updated Racks
Ableton's Device and Instrument Racks see major enhancements in Live 11. We can now vary the number of displayed macros from 1 to 16! The values can be randomized, and in case things get confusing, we have the ability to return to saved preset states using snapshots.

Updated Devices
Similar to the last update, some devices have been given a facelift, combined, or both.
Chorus-Ensemble now features new Ensemble and Vibrato modes.

Phaser-Flanger effects are now combined, featuring up to 42 notches in Phase mode!

Redux now has updated controls to dial-in settings from not noticeable all the way to completely crushed.

Instruments
AAS Updates
The Applied Acoustic Systems collaboration in Live 7 and 8 produced a series of physical modeling Instruments, including Tension, Electric, and Collision. While these new tools could generate novel tones, their interfaces were somewhat of a barrier to music makers who didn't have the patience to dive deep into complex interfaces.
The changes in Live 11 aim to rectify this shortcoming, offering simplified and visually compelling ways to interact with the parameters.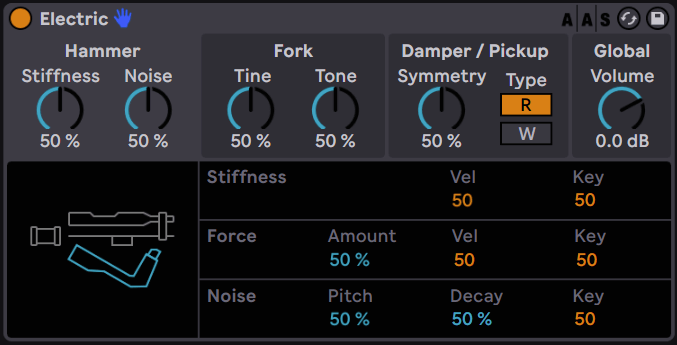 Inspired By Nature
Created in collaboration with Dillon Bastan, Live 11 will ship with a strong collection of 6 new instruments and effects.
Physics-based motions like bouncing or directional movement enable organic ways of interacting with sound.
Vector FM, Grain, and Delay offer frequency modulation, granular synthesis, and delay respectively in a shared GUI  style in which a circular display is shared across the devices to show particle movement.

Emit, Tree Tone, and Bouncy Notes are, on the other hand, a little more varied, barring some resemblances to iZotope Iris, Sonic Charge Synplant, and the Bouncing Hammer in Ableton Tension. These devices offer yet more granular, resonator, and pitch-shifting delay options to the aforementioned updates.

New Sounds
A collaboration with Spitfire Audio expands Lives' orchestral offering with the inclusion of well-curated Upright Piano, Brass Quartet, and String Quartet sounds. Curated Collections including Voice Box, Mood Reel, Drone Lab offer vocal, textural, and drone sounds to bolster the ever-expanding native sound library that users of Suite enjoy.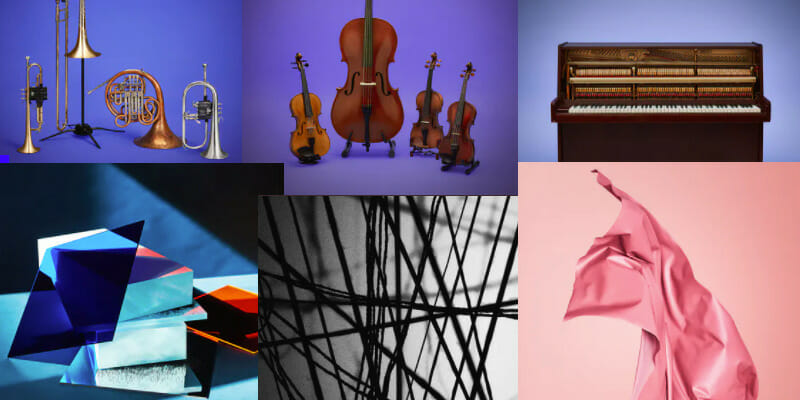 Performance
On the performance side, we see noteworthy updates to follow actions both on a clip level and directly in the scenes on the master channel. Additionally, Andrew Robertson BeatSeeker (https://www.ableton.com/en/packs/beatseeker/) utility is now infused in the software, directly allowing responsive tempo following incoming audio such as a drummer's snare signal.
Updated Follow Actions
Tedious manual adjustments are now a thing of the past with the inclusion of Linked follow actions relying on the length of the clip to trigger the programmed action.
Updated Master Chanel
Follow actions can also be directly programmed into scenes for an automated playthrough of a session. Resizing the master also reveals additional information such as tempo and time signature changes previously needing to be programmed into the scenes.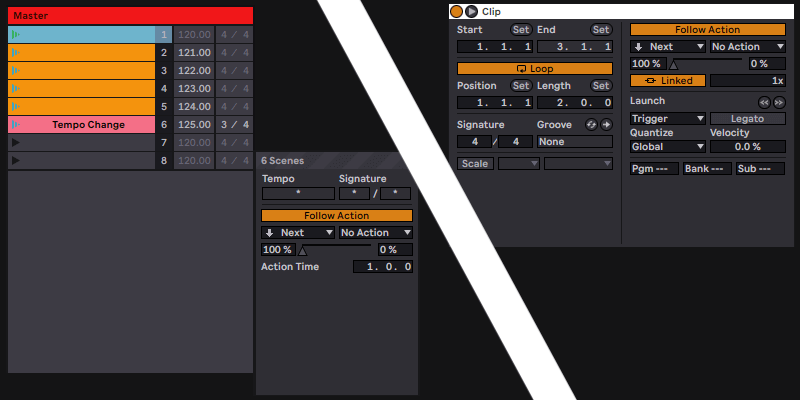 Extras
CPU Metering
The utilization of CPU-intensive effects such as Hybrid Reverb and modern third-party synths and effects often leaves older laptop fans spinning up to get the fires put out. To help find out where the drain is coming from, we are now able to monitor CPU usage directly on the channels just below the fader. CPU is shown in peak and average levels on both individual channels and the master.
Templates
Most DAW offerings allow template management natively within the software. Rather than manage templates in cumbersome ways on the hard disk, Live 11 catches up to the norm, offering storage and recall of templates under the categories section of the browser sidebar.

Push
With all these new updates to workflows and devices, owners of the Push instrument won't be left in the dust. The team at Ableton put a lot of emphasis on the instrument's ability to control the software exclusively on the unit so new devices will include visualizations, clip keys, and scales will sync automatically, we will be able to view up to 16 macros and have polyphonic aftertouch.
Conclusion
The update may seem at the surface to be lackluster or expected, but the truth is that the workflow enhancements are positively game-changing on both audio and MIDI fronts. Updates and upgrades to existing instruments and devices will see users reach less for third-party options, while new additions will inspire people to create new and unique sounds.