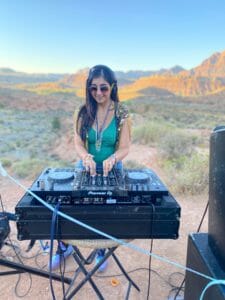 343 Labs is back with another Community Spotlight! This time we sat down with Ria Mehta, who graduated from 343 Labs in April 2020, and is a strong example of the fact that you can succeed in music production quickly if you (a) believe in yourself and (b) put in the effort. Having only produced music for 10 months after taking a course with us, she now has a number 1 release on Beatport and has found big success through her music already. We are extremely proud of the progress she has made, and she wants you to know that you can too! Let's see what she had to say…
What's your name and artist's name (if any)? Give us a bit of background on yourself. How long have you been producing, and how did you get into music?
My real name is Ria, and my artist name is Rïa Mehta.
What is your musical background?
I don't have any formal training in music. I started DJing about a year and a half ago, and that piqued my interest in producing shortly after. After having taken the 6-week 343 Labs Ableton class and some workshop with Rinzen, here I am 🙂 
How long have you been producing?
10 months
How did you get into music?
I started making Spotify playlists years ago that caught traction, and then Divu, a friend who has been DJing for over a decade, told me to try my hand at DJing. Once I started playing for people, I knew I wanted to make my own music someday. So as soon as quarantine hit in March 2020, I sat down and made my first song, "Dusk" (out on Club Rapture label), two weeks into quarantine. I made it in Garageband and used all loops, so when Nacho (co-founder of 343 Labs) and Drew (from Club Rapture) and a few other friends heard it, they told me to learn Ableton so I could make more music if I wanted to.
How long have you been a student at 343 Labs?
I was a student at 343 Labs for the month of April in 2020
What classes are you taking/have you taken?
I took the "Ableton Live: Produce Your First Track" class.
What's your favorite thing about being a student at 343?
I enjoyed having classmates that were local and getting individual attention from the teacher since the class size was only 6-8 people.
What's your favorite music genre when making music? 
Always progressive, but within the Melodic Techno and Deep House genres
What inspires you when you make music, and which artists or producers do you look up to?
My inspiration is usually my mood. If I'm happy, I make happier sounding tracks, and when I'm not, I can't make anything but darker sounds. I look up to SO many artists, but the producers from Afterlife, Anjunadeep, Katermukke, and ADID are my favorites. With each of those labels, I like them for different things too: with Afterlife, I feel a deep pull of emotions; with Anjunadeep, I want to dance (and I love that they're releasing darker music now with artists like Nox Vahn), Katermukke I love for their diversity (they just released an ASMR track like WOW), and ADID has the happiest vibes (I also love that they do more day time than night time parties). 
How would you define your individual sound?
Melodic. And Progressive. 
Do you have any projects on the go? Tell us about them!
I have a scheduled release, but I can't say which label yet 🙂 I also have another project I'm working on with Sean, with who I released my latest EP Sacre. He's out in Australia, but the time difference hasn't stopped us from working on tunes together. It's a blessing to have someone as talented as Sean to work with, especially on the days when you doubt yourself.
The unnamed label EP is darker melodic techno, the one with Sean is more progressive melodic deep house. Both very different. But excited about both.
What are your goals for the coming year?
To keep making music I love. And promote other artists in our community on our new Club Rapture label. We have a bunch of talented artists in our community so hoping we can help them with my experience and the support of the Rapture community.
Is there anything you would like to share or say to the 343 Community?
I got way more rejections than accepts to my tracks before my success with Sacre. Keep your head up, and start over even when you don't feel like it; some days are harder than others. Music is subjective; there's no harm in self-releasing, and there WILL be some people that like your music more than others, and that's okay. It's just the way the world works. 
Most importantly: Devote time to producing if that's what you want to do. Get a lot of feedback on your tracks in progress because it really does help. I have a long way to go before I get to where I want to be, and I learn something new every time I open Ableton. So just make music you love, and everything else will follow 🙂
Well, if Ria isn't a reflection of the 343 ethos, we don't know who is! We are so excited to see how Ria's music production future unfolds. 
You can find Ria at the following links:
Social media:
ria-mehta.com, @riamehta on Instagram, @riamehtamusic on Facebook
Links to music:
https://www.youtube.com/channel/UCryq5cGdifmO9lkv64STUkQ 
Spotify: https://open.spotify.com/artist/5beCWXa9DehfM1hXMz4s8J?si=X_2OuVX-QFWL7YnYpi5KrQ
Soundcloud: soundcloud.com/riamehta
Beatport: https://www.beatport.com/artist/ria-mehta/913761