Community Spotlight: Nefertiti Gold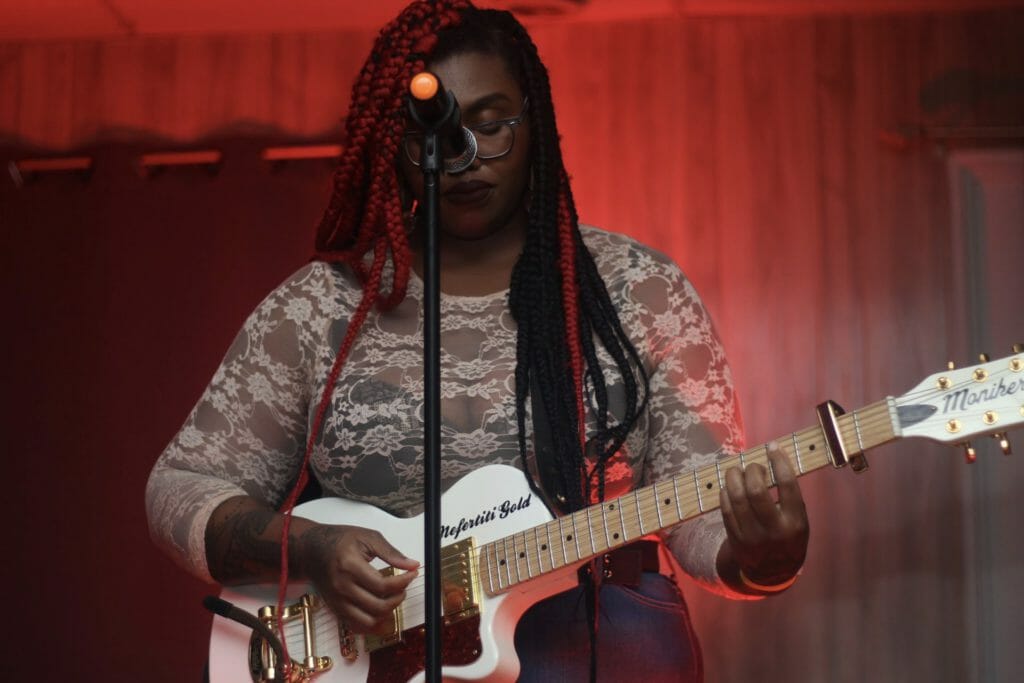 Welcome to our very first Community Spotlight, where we will be shining the light on the amazingly talented Nefertiti Gold!
Nefertiti started learning with 343 Labs back in April 2020 and has taken our Logic Pro, Vocal Production, Electronic Music Composition & Arrangement, and Mixing & Mastering courses – almost the full program! With such a rich musical background, and having performed at some incredible events including SXSW in 2019; Nefertiti is definitely one to watch! We asked her a few questions to get the low-down on this lyrical genius with the voice of an angel…
Tell us a bit about yourself. How long have you been producing and how did you get into music?
Well, my artist name is Nefertiti Gold and my name is Nefertiti (lol). I've always been a vocalist first, and along the way, I picked up learning to play a little bit of piano and a bit more of the guitar so I can accompany myself. I'm classically trained so I started singing classical arrangements and studied as a voice minor at Kean's Conservatory of Music. After that program ended, I dived back into singing more contemporary R&B style music and went on to do live performances. I've gotten the opportunity to perform at some pretty dope venues from New York to LA, and at SXSW in 2019, but as far as music production goes, that's still fairly new to me as I've only gotten into it for about 8 months now.
What's your favourite thing about being a student at 343?
My favorite part about being a student at 343 is the ability to learn from some of the most experienced musicians possible when it comes to not only the creative side of music but also the technical side as well.
What's your favourite music genre when making music?
My favorite genres to create are Trap and R&B, although I'm still learning how to tweak them so that they can really pop.
What inspires you when you make music, and which artists or producers do you look up to?
Music is an emotional experience for me so I'm probably in my feelings whenever I'm songwriting (lol). Artists I've looked up to have been predominantly vocalists such as Whitney Houston, Musiq Soulchild, Brandy, and Jazmine Sullivan.
How would you define your individual sound?
Before the pandemic, my performances would usually be dubbed as "coffee house R&B" – something that's chill and always sets the mood.
Do you have any projects on the go? Tell us about them!
I recently released my first beat tape on Halloween titled "Island Universe". The premise is the idea of going somewhere new, a different world or planet which is what I felt like I've done during my process of learning to produce and bring my ideas more to life. I'm also in the process of putting together my next EP, which I'm pretty excited about since I'll be back singing in the booth again.
What are your goals for the coming year?
For my goals this year, I decided to keep things fairly simple and not force myself to take on too much. I want to focus on putting my EP together which I'll announce the title in the next couple of months, and I also want to learn Spanish 🙂
Is there anything you would like to share or say to the 343 Community?
I don't know where to start! I'm grateful that there's a music community out there that's obsessed as much as I am (lol). The support system is amazing. And it's been great coming across so many different talented individuals of different genres that allow me to continue learning as much as I can. And most importantly of all… Black Lives Matter.
So, pretty safe to say that Nefertiti is a boss when it comes to music and we couldn't be happier that we are able to have her as part of our community!
More music can be found at the following links (all major platforms):
https://fanlink.to/IslandUniverse https://fanlink.to/_GOLD
You can also find her and follow her on the below social links:
Website: www.nefertitigoldmusic.com
Youtube: www.youtube.com/nefertitigold
Facebook: facebook.com/nefertitigoldmusic
Instagram: instagram.com/nefertiti.gold
Twitter: https://twitter.com/nefertitigold_
Snapchat: https://snapchat.com/add/nefertiti.gold
Thanks for checking into our first ever Community Spotlight, folks! Stay tuned for our next spotlight which will be focusing on our very own techno-god, Mr. Abe Duque, who is a long time 343 Labs instructor.